You are here:
ARM HSSTP PHY with Link Layer
The VSG3ST6 is an enhanced simplex High-Speed STP macro with data transfer capabilities of up-to 6.25/12.5Gbps. It includes a Standard ARM HS-STP simplex interface. In addition, on the same footprint using Gigacom's technology, it can include a standard JTAG interface.
特色
Standards Compliance

ARM HS-STP v6.0

ARM Coresight DDI 0314H

Xilinx Aurora 8b/10b v2.2

IEEE 1149.1

High-Speed Data Transfer

Up-to 6.25/12.5Gbps per lane

Up-to 8 lanes, for a combined total of 50Gbps

Low Power

Automatic shut-off when not enabled ensures minimum power consumption

Simple configuration interface

Small register configuration space

Simple interface, can be easily connected to an standard APB bus, or similar

Minimal setup, with automatic start-up when reset is de-asserted

On-Chip IO ring compatibility

Designed as an IO-ring component

Small footprint

Wire-Bond and Flip-Chip compatible

Clocking

Flexible clocking options, including internal and external, direct or crystal-based

Optional Features

JTAG Interface

Embedded TAP controller

Extensive Test and Debug Features

Scan

DC JTAG

Serial Debug Access
优势
Fully integrated/ hardened drop-in solution along with Link Layer

Small foot print

Low power

Comprehensive features
可交付内容
PHY

Abstract LEF

Behavioral Model Verilog

Timing Model .lib

High-speed IO Model hSpice

LVS Netlist cdl

Physical database GDSII

Documentation pdf

LINK Layer ( Aurora )

RTL Verilog

Synthesis/ Timing SDC

Documentation PDF

Test Bench Verilog
应用
The VG3ST6 can be paired with an HS-STP compatible receiver system to create a flexible debugging platform customizable for nearly every silicon bring-up strategy. The figure shows a typical example of application.
Block Diagram of the ARM HSSTP PHY with Link Layer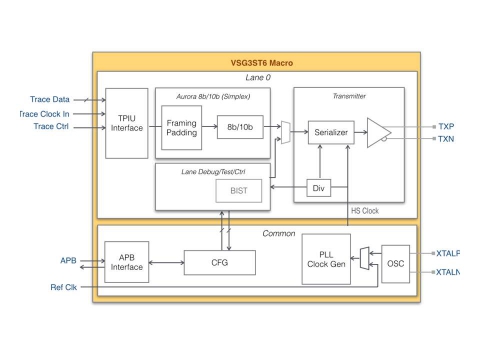 ---
查看 ARM HSSTP PHY with Link Layer 详细介绍:
查看 ARM HSSTP PHY with Link Layer 完整数据手册
联系 ARM HSSTP PHY with Link Layer 供应商