You are here:
Public Key crypto engine for RSA, ECC, ECDSA and ECDH
A tiny or high-performance PK crypto engine for RSA, ECC and ECDSA. A 100% CPU offload solution available on ASIC and FPGA

Hardware acceleration

Software solutions are often too slow for real-time applications and the overall impact on performances becomes very quickly a penalty for the whole system when the overhead on CPU workload is too high. Accelerators often consume a large part of silicon and are not flexible enough to be used as stand-alone solutions. The BA414EP is an efficient hardware accelerator really offering significant and valuable advantages.

Small footprint and high-performance solutions

The BA414EP is highly pipe-lined and can provide very high-performances in large configurations. With less than 30kgates for the smallest configuration supporting the whole set of operations, the BA414EP is the ideal solution for applications requiring strong constraints of cost and power.

100% CPU offload

The BA414EP does not require any assistance of the main CPU. Pre- and post-calculations are automatically done and all internal data transfers are handled by a scatter-gather DMA.

With easy-to-use solutions and very low-cost implementations on a wide range of FPGA devices or ASIC technologies, the BA414EP makes PK integration really affordable for all applications.
特色
High-level of scalability with solutions implementing from 4 up to 256 multipliers

100% CPU off-load (pre and post-processing included)

Portability: ASIC, Altera, Xilinx, Microsemi

RSA, CRT, DH, DSA (Digital Signature Algorithm) up to 4096 bits

ECC/EDCH/ECDSA in F(p) and F(2m) up to 1024 bits

Point addition/doubling/multiplication

NIST, Brainpool, Koblitz and others curves

Rabin-Miller Primality check, Key Generation

Apple Home Kit:

J-PAKE, ECKCDSA, ECIES, ECMQV

Arithmetic operations in both fields F(p) and F(2m)

◦Modular Addition/ Subtraction/ Multiplication/ Division/ Inversion/ Exponentiation

Optional add-on for protection against SPA/DPA

Control Interface: APB/AXI4-Lite compliant CPU Interface

Data interface: AHB/AXI Slave interface

Off-the-shelf and silicon-proven solution
优势
Off-the-shelf

100% CPU off-load

Unrivaled speed performance

Optimal and tailored implementation to your needs

Highest performance/area ratio for a large range of applications

Reconfigurable and scalable features

Portable and optimized to ASIC or FPGA technology

Upgradeable to new performance requirements or to new generations of ASIC or FPGA technology

User-friendly API
可交付内容
Netlist or RTL

Scripts for synthesis

Self-checking TestBench based on FIPS vectors

Software drivers

Documentation

Datasheet

Integration guide
应用
Secure boot

Key generation

Authentication

Key exchange (DH, IKE)

Prime number generation

TLS/SSL
Block Diagram of the Public Key crypto engine for RSA, ECC, ECDSA and ECDH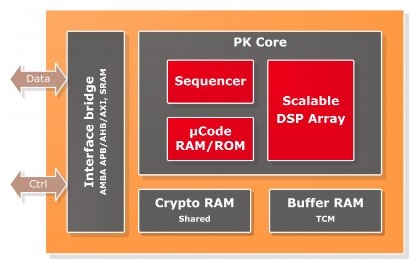 ---
查看 Public Key crypto engine for RSA, ECC, ECDSA and ECDH 详细介绍:
查看 Public Key crypto engine for RSA, ECC, ECDSA and ECDH 完整数据手册
联系 Public Key crypto engine for RSA, ECC, ECDSA and ECDH 供应商